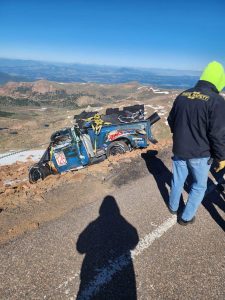 RIP Old Smokey
Cummins Powered F100 Crash at Pikes Peak
Scott Birdsall has been shaking things up with his immensely popular 1949 Cummins powered F100, dubbed Old Smokey, for many years now. A quick search of "Cummins Old Smokey" should get you familiar with the beast of a truck if you're not already. A couple weeks ago was the annual Pike Peak race. The race has competitors driving up a steep hill in Colorado, at high elevation with steep cliffs all around. Long story short, it's extremely dangerous. Lately the race to make it to the top the quickest, has seen competition from more than just gassers. The diesel race has been getting hotter over the last several years. Prior to this year (more on this year's race below), Scott had held the record for diesel at a little over 11 minutes and 24 seconds. This year while trying to break his own record, Scott's Old Smokey's brakes' failed. The failure came as the truck entered one of the more infamous turns at over 90-mph sending the truck over the edge, 175 feet down the side of a cliff rolling several times before coming to a stop. Luckily Scott survived, Old Smokey, not so much. Knowing Scott, we can't wait to see what he builds next, we know it'll be epic.
Source: Banks Power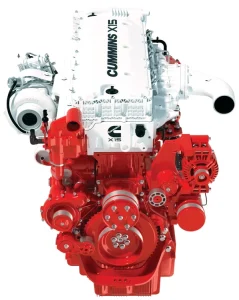 New Cummins Engine
15-Liter X15D
Recently released from Cummins (yet still in the testing phase), the new engine series will offer the most power ever from Cummins with ratings of up to 660 hp and peak torque at 2360 lb-ft. Thanks to Cummins XPT (Extreme Pressure Injection) fuel system, these power ratings come with reported increased efficiency in both fuel consumption and emissions. A significant bump in cylinder pressures from a new cylinder design also help with the aforementioned gains, we're sure. As Cummins calls it, this series is "fuel agnostic" meaning it will be compatible with (or at least has the ability to be modified to be compatible with) varied fuel types including diesel (of course), hydrogen and natural gas. On top of all that, this new series benefit from a weight savings of nearly 500lbs over the current X15 series engines.
When will we see it state side? That's likely not going to happen anytime soon, as the X15D currently is offered only as a "Euro VI" engine and is currently under going testing in Australia with a phased release down under starting November of 2025.
https://dieselnet.com/news/2023/06cummins.php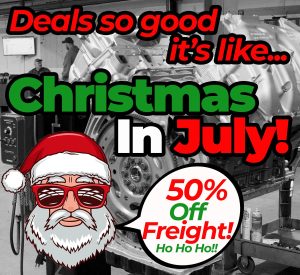 The Latest at Choate
Christmas In July
There's always a deal to be had here at Choate Engineering Performance. This month, it's Christmas in July! Whether it's an engine, heads, or any other diesel part, for the month of July we're paying half your freight. On engines, that's a savings of several hundred dollars each! July is a great month to get your truck running right, with half off shipping from Choate Engineering Performance.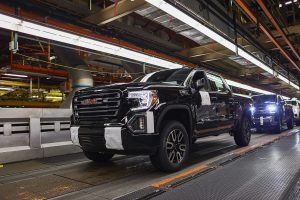 OEM News
GM Reinvests in Internal Combustion
It's not all electric plan for the future, thankfully. General Motors recently announced they will be reinvesting $632 million into their Fort Wayne Indianna Assembly Plant in preparation for the next generation of internal combustion powered light duty trucks. The plant in Fort Wayne builds the 1500 Sierra and Silverado pickups. We know internal combustion isn't going away any time soon, it's just nice to see some news about a manufacturer reinvesting in something other than electric for a change!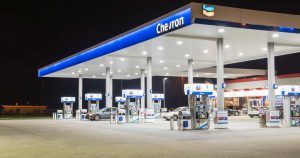 Fuel News
Chevron Invests in Renewable Diesel
Over the weekend, reports rolled in that Chevron and partner Bunge Ltd. Have purchased a seed business in Argentina named Chacraservicios. Chacraservicios specializes in Camalina Sativa which is a crop that apparently contains very high levels of vegetable oil. A necessary step as the world hunts for more readily renewable fuels. Chevron's SVP of Business Development was quoted saying: "Agricultural innovation is powering renewable fuels development around the world, and opportunities like this are helping Chevron expand our portfolio of affordable, reliable and lower carbon fuels."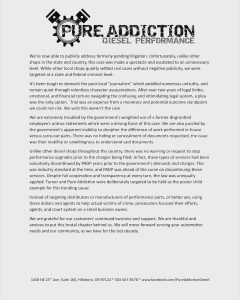 EPA News
Pure Addiction Diesel Performance
Another debacle in the diesel world has become public as Pure Addiction Diesel shares the news about their legal battle with CARB and the EPA. The image above tells the story best, but from what we can see a former employee decided to make life tough for the crew at Pure Addiction by lying to authorities, said authorities then took extreme advantage of the situation and went full speed at the shop tying them up in court for 2-years. It appears that yet again these cases don't seem to be following any SOP, as this one is yet again vastly different than others in the past. We wish there was more transparency in these cases. Not knowing exactly how to navigate business or these lawsuits, is tough to say the very least. We wish the crew at Pure Addiction Diesel Performance all the best of luck and a speedy recovery from this unfortunate incidence.
https://www.facebook.com/PureAddictionDiesel/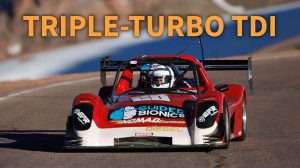 Racing News
Pikes Peak Record
Back in 2020, Old Smokey broke the diesel powered Pikes Peak record with a VW nipping at it's heals. Old Smokey made it up the hill in 11 mins, 24 seconds with the VW only 1.024 seconds behind. Ever since, the diesel war on Pikes Peak has heated up. This year the old record was beaten a few times, by a 6.0L Powerstroke powered Nissan piloted by Cole Powelson, and more importantly, by a custom build powered by an improved version of the Beetle's diesel engine. I say more importantly, because the VW powered vehicle is the current record holder with a time of 10:25.071. Just 25-seconds from beating the 10-minute barrier that was previously thought as impossible. Read more about the VW King of The Mountain at the link below.
https://www.thedrive.com/news/new-pikes-peak-diesel-record-holder-uses-outrageous-tri-turbo-vw-four-cylinder